Fausto and Gino rewrite cycling history
Time:2018-10-30
Views:1586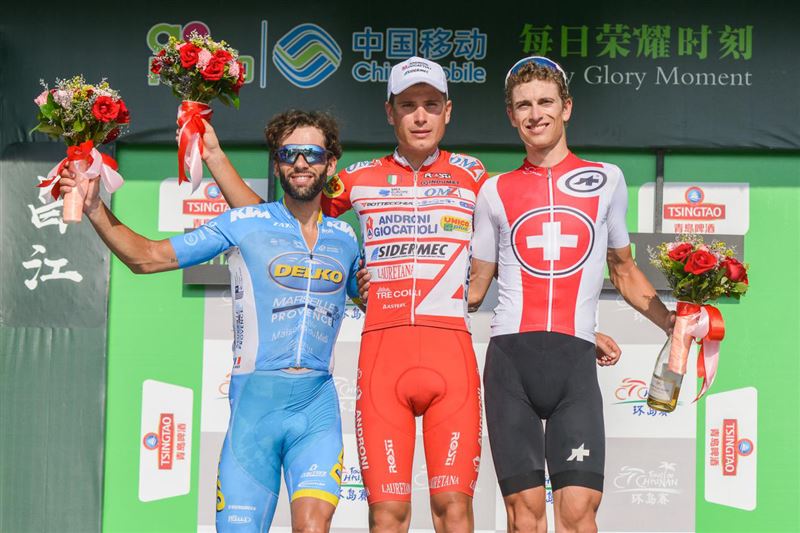 The queen stage of the Country Garden Cup 13th Tour of Hainan turned out to be a battle between Fausto and Gino as duellists Masnada and Mäder carry the same first names as cycling's greats Coppi and Bartali. The Italian from Androni Giocattoli-Sidermec is on the verge of winning the overall race in Danzhou after stage 9 as he enjoys two seconds lead over the young prodigy of the Swiss national team.
Breakaway riders Roy Goldstein who is the Israel national champion (Israel Cycling Academy), Joey van Rhee and Peter Schulting (Monkey Town), Ukraine's national champion Oleksandr Polivoda (Ningxia-Livall) and Kohei Uchima (Nippo-Vini Fantini) got a maximum advantage of 10'15'', which made the race hard for everyone as the protagonists of the overall classification had to chase seriously to reduce the gap to Schulting who was the highest ranked escapee with a 2' deficit. Uchima got dropped 50km to go while the time difference was still over five minutes. Van Rhee was the second rider to surrender with 12km to go and Polivoda the third one at the bottom of the 7km conclusive climb.
This was the first ever hilltop finish at the Tour of Hainan. Schulting was alone in the lead 6km before the end. Defending champion Jacopo Mosca of Wilier Triestina attacked from the peloton. As soon as he got reeled in, Simon Pellaud upped the tempo for the Swiss national team. With 4.5km to go, Schulting was passed by a group of five riders including Masnada, Mäder and Lyu Xianjing (Hengxiang). Matteo Badilatti (Israel Cycling Academy) and Julien El Farès (Delko Marseille-Provence KTM) made it across within 3km to go but couldn't follow an acceleration by Mäder.
It came down to a duel between Masnada and Mäder in the last kilometre. Masnada rode away 600 metres before the line and caught a well-deserved victory as well as the yellow jersey with an advantage of two seconds on the eve of the conclusive stage in Danzhou.
Quotes of the day:
Stage winner and race leader Fausto Masnada (Androni Giocattoli-Sidermec): "I don't think my parents called me Fausto with the idea that I'd beat someone called Gino [in reference to Fausto Coppi and Gino Bartali] because they had nothing to do with cycling when I was born. I would be happy if I could do half of what the great Coppi did on the bike. I knew I was going well but I didn't know the climb, neither my adversaries. It's been a demanding race all the way because of the wind. I gave everything and I managed to make this coup. I climbed at my rhythm. Gino's interest was to stay on my wheel because he was the virtual leader. I sped up to make a difference. At 600 meters to go, I looked behind and I realized I was alone and I went flat out until the finish. It's even better to get the yellow jersey. We came here with a great team. We always remained united and won three stages before this one. Today's been the ice on the cake. It's my first pro win. It was worth waiting till the end of the season to get it. I've been chasing it since the beginning of the year and I've been close on a few occasions, even at the Giro d'Italia. There's one stage remaining. It'll be another long one with 182km. We have sprinters who can target one more stage victory even though the overall classification will be our priority now. We'll do our best to conclude this wonderful race in style. Coming to Hainan, I didn't expect to see such a big island with such a big population. I've enjoyed my time here very much."
Gino Mäder (Swiss national team), second: "Fausto Masnada was too strong for me and he deserves his victory. He attacked me from far out. I tried to follow him. I yelled at him ok you can go and win the stage but let me follow, however, I couldn't speak anymore, I yelled, I yelled, but he kept accelerating. Eventually, I lost two seconds too much on him but I have no regrets because he was really stronger than me. It's only my second time riding for GC [third at the Tour de l'Avenir]. I'm learning a lot at this Tour of Hainan. I'm truly happy with what I've achieved and what the Swiss team has done for me. They've supported me greatly over the eight stages. I'm thankful to my team and the race organizers. It's cool to be here."
Julien El Farès (Delko Marseille-Provence KTM): "I came third overall in the Tour of Hainan before [in 2015] but this was the first time for the race to have an uphill finish. According to the road book this climb was very hard but I can confirm it's a gruelling climb! I suffered a lot but I tried to do my best up the hill. My team did a very good job. Third is probably the best result I could get up there."
Points classification leader Raymond Kreder (Ukyo): "Before the stage, I already knew this climb was too hard for me to retain the yellow jersey, so we decided to go for Benjamin Prades for the GC. After all the work my team-mates have done for me those last couple of days, it was good to give the team something back, so I pulled a fair bit at the front of the peloton. I'm still happy with my green jersey and I'll defend it tomorrow."